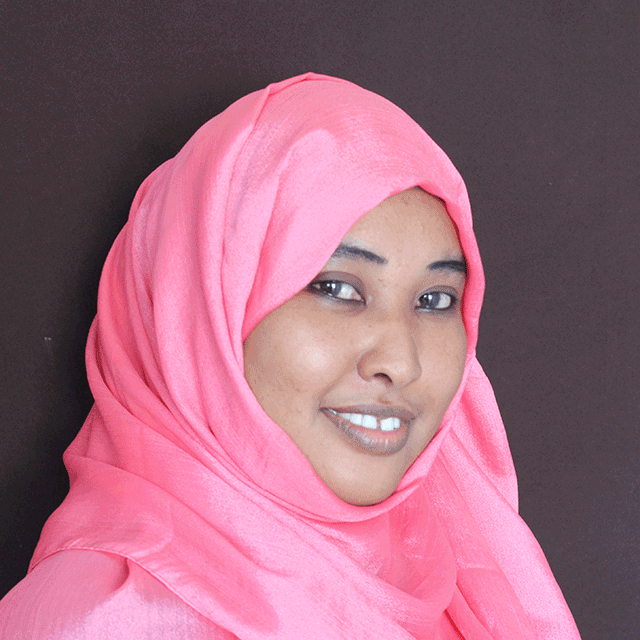 Ms. Farhia Mohamoud Yusuf MSc
Ms. Farhia is a highly motivated graduate with eagerness to continue to develop her skills in the realm public health.
Areas of her interest are the following:
-Reproductive health programming.
-HIV/AIDS programming
-Monitoring & Evaluation, Training and operational research
-Project Development & Implementation
-Epidemiology & Primary healthcare
She continues to practice the profession of health, contributing towards improvement of public health with competencies and technical skills to manage and implement projects/ programs.
Languages:
Somali, English, Arabic
Work Experience:
February, 2014 up to now – Working at Mogadishu University President's Office as a secretary.
Lecturer at Faculty of Nurse & Health Sciences, Department of Public Health
September 2008-2011 – Clinical Practice as a Nursing in Medicine San Frontieres Holland and Switzerland –Somalia Mogadishu Project, For Nurse.
Educational Background
September, 2012- 2014
Master of Public Health (Epidemiology and Disease Control) at Kenyatta University
Tertiary Education
2005-2009: Mogadishu University Bachelor of Science Degree in Nursing
Secondary Education
2001 – 2004: Al-Hikma Secondary School
Professional Awards:
Certificate: Monitoring and Evaluation on Health Care Training on April, 2013 held by University of Nairobi in Kenya.
Certificate: Conflict Transformation Practical skills in facilitation, designing training programmers learning from practical on May/2013 held by Coalition for Peace in Africa (COPA) Respondents to Conflict (RTC) Training for Trainers Workshop in Nairobi Kenya.
Certificate: IPAS protecting women's health advancing women's reproductive right, for qualitative research methods in reproductive health training 19th to 21st April, 2012 held at Kenyatta University Conference Centre.
Certificate: Intermediate course on Statistical Package for the Social Sciences (SPSS) for windows: Data management and Statistics section-CDC Nairobi July 19-24, 2012.
Position
Lecturer at Faculty of Nurse & Health Sciences