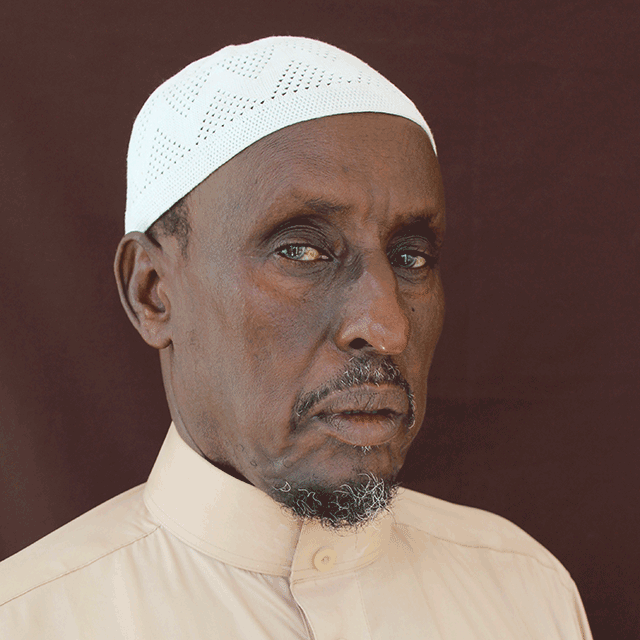 Mr. Mohamed Husein Ismail
Mohamed Hussein Ismail is graduated in Faculty of the Holy Quran at Islamic University in Saudi Arabia, in 1987.  In 2006,  he also graduated in Advocacy and Public Speaking, in Saudi Arabia.
He has worked as a teacher in Faculty of Sharia and Law at Mogadishu University, as well as has worked as a teacher in Mosques for more than 30 years.
He attended a training program about inviting others to Allah at Islamic University, also he attended dozens of others training programs as lecturer or trainee.
Speaks Somali and Arabic.
محمد حسين إسماعيل حصل على شهادة البكارليوس، كلية القرآن الكريم، الجامعة الإسلامية في المملكة العربية السعودية سنة 1986 و في سنة 2006 حصل على دبلوم عام في الدعوة والإمامة والخطابة، المجلس الأعلى العالمي للمساجد، معهد إعداد الأئمة والدعاة
 عمل كأستاذ في كلية الشريعة والقانون بجامعة مقديشو و أيضا كمدّرس في حلقات المساجد لأكثر من ثلاثين عام  
 حصل على دبلوم في البرنامج التدريبي على الدعوة إلى الله، مركز شئون الدعوة الإسلامية بالجامعة الإسلامية وغير ذلك من عشرات الدورات محاضرا وطالبا.
يتحدث باللغة الصومالية و اللغة العربية.